This is a project that I started a long, long time ago...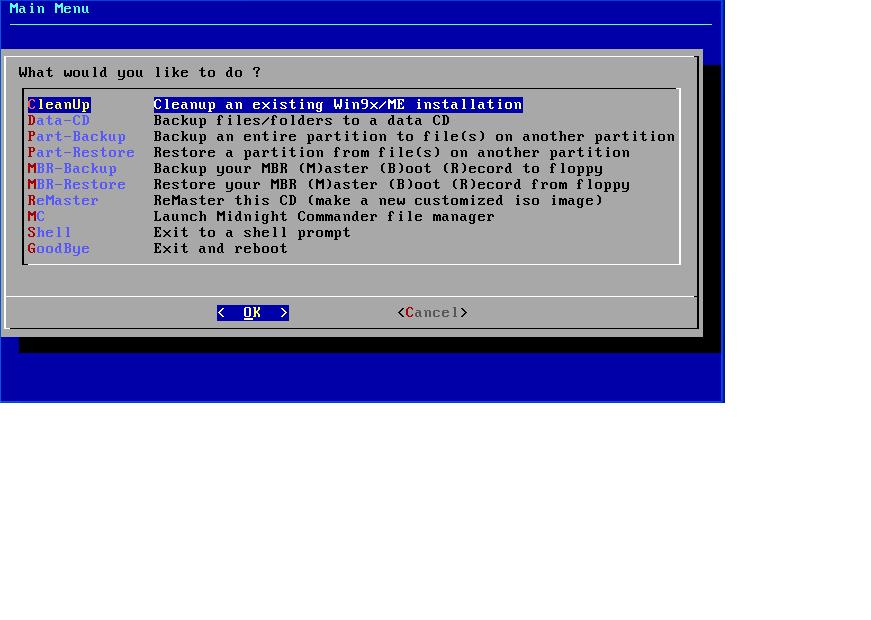 http://ezpcfix.net/dload/custom16.iso
This is a bootable cd that has lots of "all-purpose" goodies built in. It's meant for systems without much ram (24/32mb). The iso image is only about 5mb but it has lots of usefull utilities built in.
It's very easy to integrate into your ubcd/ubcd4win combo cd but you can also just burn it to cd and boot it.
The "CleanUp" function allows you to cleanup an existing Win9x/ME installation. It's a "step-by-step" process that doesn't delete or change anything unless you tell it to during the process.
The "ReMaster" function is really nice. Since this cd boots entirely into ram (you can even eject the cd), you can make changes and it creates a new iso for you and gives you the option to burn it to cd. If you booted from a cd-rw, it will even blank it for you and write it back to the same cd that you booted from!
You can also backup files from an older pc to cd, backup/restore your mbr or entire partitions...
This is a utility cd that I started making for myself a long time ago and I use it everyday and I thought that others would benefit from it too.
You can burn it to cd-rw and boot it then make changes and reboot it and end up with something completely different than what you started with. That's something you don't see very often
Anyway, I hope you enjoy it and let me know of anything usefull that you might add to it.
<credits>
A big thanks to linuxkid (from Peanut Linux) for the mbr backup/restore script.
</credits>
Tom